Before you start creating assignments, it is important to note, that they can only be created within courses, but not private lessons.
Did you know that you can use your assignments for multiple purposes? Before creating an assignment, it is best to decide what you would like to use it for. Click here to read the article!
1. Step – Creating a new assignment. Choose the given course in the Course menu, that you want the test to assign to. You are taken to the Assignments tab, where you can create a new assignment by clicking the New Assignment button on the right.

2. Step – Entering data
Create from existing assignment: If you already created an assignment previously, that you would use as a basis, you can load that assignment and edit it.
Select a class: Select the course that should contain your assignment.
Assignment name: Give a name to your assignment
Link to article or video: The link of the Article or video can be an external website, but you can also choose an Article you created from the Documents menu. It will appear on the left side of the assignment solver, students will see this content during the whole assignment solving process and can toggle between questions.
Instructions: Give your students some instructions regarding your assignment. You can write text, insert an image or a YouTube video too.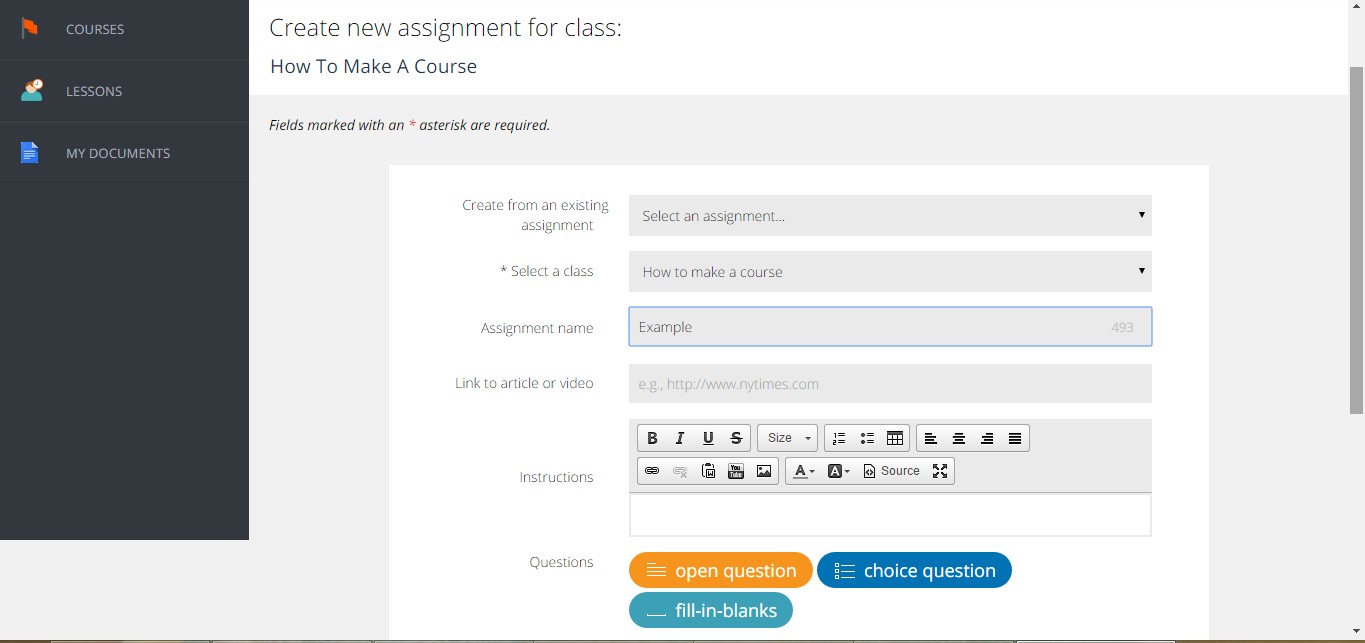 3. Step – Adding questions
Question types to choose from:
- Open question: Students can freely answer and type their answers to your question.
- Choice question: You can add answer options to your question and indicate which is the correct answer. You can only set one correct answer.
- Fill-in-blanks: Type a sentence and select the word(s) you would like to be blanked out. You can set "Enable free form answering" if you would like to allow students to write the answer themselves or add distractor words, so students have a list of words to choose from. You can read the detailed instructions on how to create them in the box appearing when hovering your cursor over the "hover for instructions" text.
HINT: You can always add and delete questions, however you can not change the order of them after they are added.
4. Step - Setting a start and end date
The start date is the time you would like your assignment to be published, your students can submit answers from this time on. End date is the date until students can solve your assignment. If you leave them blank, the assignment will appear the moment you finalize it and will permanently appear in your course.

If you choose "Students can redo this assignment", the assignment can be solved multiple times by a student. If you click the checkbox, students can only submit their answers once.
5. Step - Saving and publishing your assignment
Click "Save and finish later" to save your assignment as a draft or click "Create assignment" to publish it right away.
6. Step – Editing. When you created your assignment, even if some students submitted answers, you can still edit the questions and answers.