An assignment is a series of questions, that can be filled out once or multiple times by the students within the timeframe that the teacher sets. Teachers can create multiple assignments to a single course. If you have an existing material, you can use it as a basis for your assignment and attach it to the questions.
Creating:
Assignments can be created in two places:
(i) In a course by using the +Assignment module, and
(ii) In your Library
Uses:
Use the Assignment modules to create, deliver and grade assignments and quizzes to (i) prepare your students before their virtual class sessions, and (ii) to evaluate and consolidate learning after those sessions. The results from assignments are automatically entered into the grade book.
By giving your students an assignment before class, you can see the things they did not understand correctly and be better prepared for you virtual class session. After the virtual class, you can give them an assignment (i) to evaluate how well they learned during the session, or (ii) to reinforce what they learned.
Assignments can be used as course content. Create articles from your materials or upload any file from your device, add some questions to check if your students understood the material (optional!) and publish your assignment
They can be used as placement test before starting classes to get an idea of what level the student is at. This way the teacher can save a lot of time, because this way the teacher can concentrate on that material, that the student has a lack of knowledge.
They can be used as an online homework, since it doesn't matter how long it takes them to solve them and the teacher can decide how many days the students have to complete the assignment, it is a great homework tool. The most important advantage of solving homework is that the student gets a feedback on how he or she is proceeding, making it easier to see if the time devoted for studying is enough or not.


Furthermore, the most common reason to create an assignment is to use it as a test, to be able to grade the students' work. This way the progress of the student can be assessed with the help of a specific grading system. It is entirely up to the teacher, if the class participation is taken into account or the evaluation is solely based on the given exercise.
Settings:
You can set Start Date and End Date. Students cannot do the assignment before the Start Date and they cannot the get credit for the assignment after the End Date.
You can also decide whether your students can do an assignment more than once to

give more opportunity for self-testing and practicing

For example, students can study the assignment material and answer the evaluation questions. Then they can review their answers to see the things they did not understand correctly.

Examples of Assignments:
Watch this video for examples of the many types of assignments you can create:
ReUsing and Sharing Assignments:
Once you have created and assignment, you can use it again in your other courses. When you add a new assignment module to a course, just select "Load From Library" and then select the assignment you want to use.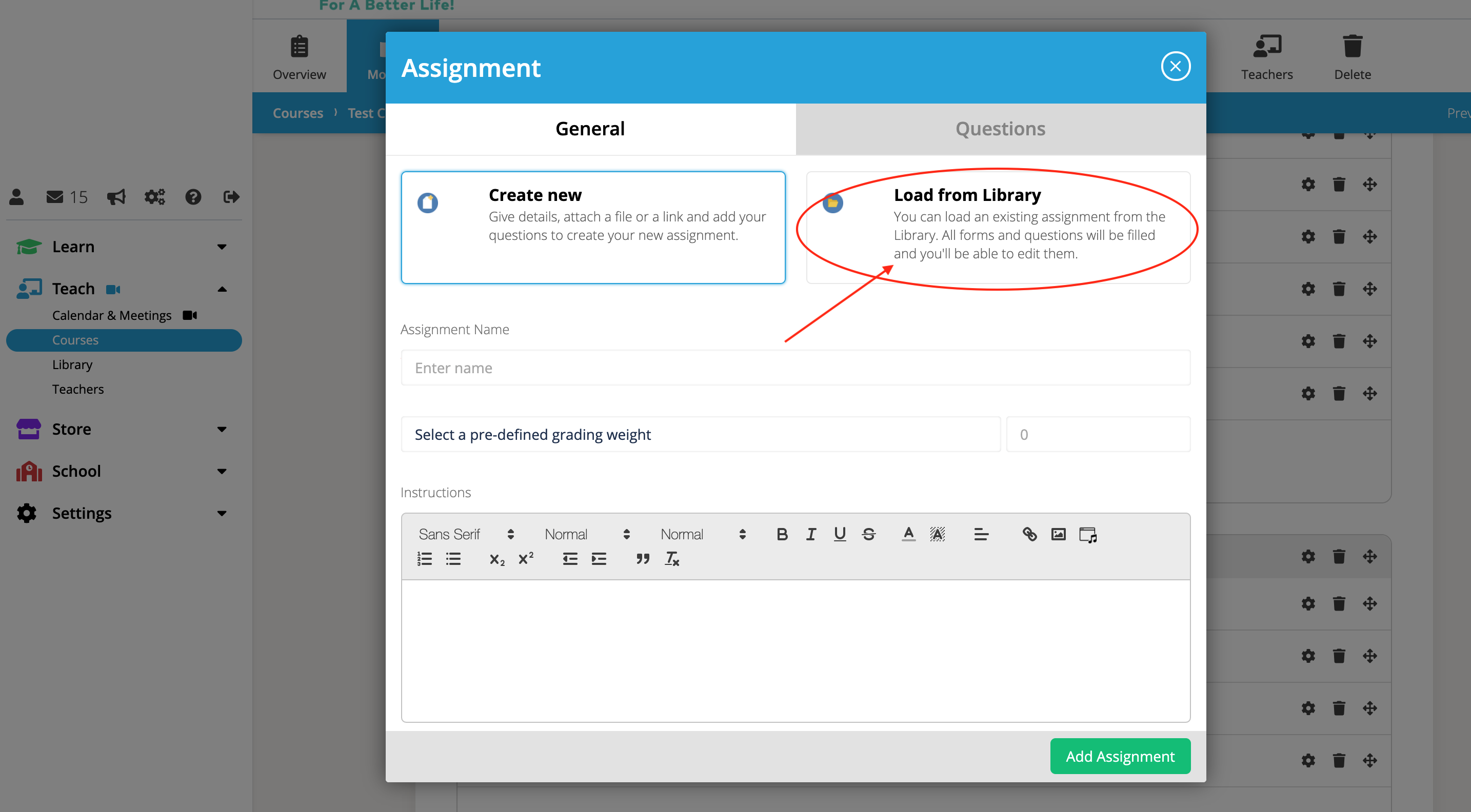 Every time you or another teacher in you iTeach school create an assignment, a copy is automatically placed in the school's library. You can go to the school library to view other assignments and add them to your own library.